Those of you who joined developer Forest City at the open houses they had on the site this past spring or at other public presentations will recall that they had committed to beginning to invite the community to portions of Pier 70 and to activate the space with experiences and activities consistent with the type of place they hope to create in the next evolution of the site – a community-driven hub that blends creative local uses with living, working and gathering spaces.
They've worked hard with the Port of San Francisco and the Mayor's Office to ensure that this opportunity is possible.  And, on Sunday, August 18th, Forest City is bringing you the first of these events in partnership with the Urban Air Market who will bring the pop-up marketplace to Pier 70!
In addition to an information booth on the Bethlehem Shipyard Museum, the Urban Air Market will include 150 local, sustainable vendors of clothing for men, women and children, jewelry, accessories, artwork, home decor, and natural beauty products. The event at Pier 70 will also include food trucks, live music, and a beer and wine garden! Forest City will also be giving tours of the site a few times throughout the day (sign up in advance here!).
To make this exciting experience happen, Forest City and Bethlehem Shipyard Museum are collaborating with local partners, such as the Noonan Building Artists, Museum of Craft and Design, SFEtsy, Dogpatch Neighborhood Association, The Workshop Residence and Mobile Libations.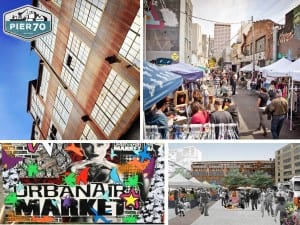 Event Details:
Date: Sunday, August 18th
Time: 11am – 6pm
Location: Building 12 at Pier 70 – the entrance is located at the corner of 22nd and Illinois Streets (map)
Cost: Free!
Shoppers RSVP for a free gift!