The third USNS Mercy (T-AH-19) is the lead ship of her class of hospital ships in the United States Navy. Her sister ship is the USNS Comfort (T-AH-20). She was named for the virtue of compassion. In accordance with the Geneva Conventions, USNS Mercy and her crew do not carry any offensive weapons, though defensive weapons are available. Firing on the Mercy would be considered a war crime.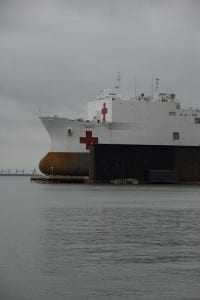 Mercy was built as an oil tanker, SS Worth, by National Steel and Shipbuilding Company, San Diego, in 1976. Starting in July 1984, she was renamed and converted to a hospital ship by the same company. Launched on 20 July 1985, USNS Mercy was commissioned on 8 November 1986. She has a raised forecastle, a transom stern, a bulbous bow, an extended deckhouse with a forward bridge, and a helicopter-landing deck with a flight control facility. The Mercy class hospital ships are the third largest ships in the U.S. Navy Fleet by length, surpassed only by the nuclear powered Enterprise and Nimitz-class supercarriers.
Her primary mission is to provide rapid, flexible, and mobile acute medical and surgical services to support Marine Corps Air/Ground Task Forces deployed ashore, Army and Air Force units deployed ashore, and naval amphibious task forces and battle forces afloat. Secondarily, she provides mobile surgical hospital service for use by appropriate US Government agencies in disaster or humanitarian relief or limited humanitarian care incident to these missions or peacetime military operations.
USNS Mercy, home ported in San Diego, is normally in reduced operating status. Her crew remains a part of the staff of Naval Medical Center San Diego until ordered to sea, at which time they have five days to fully activate the ship to an Echelon III Medical Treatment Facility. Like most "USNS" Ships, Mariners from the U.S. Navy's Military Sealift Command are responsible for navigation, propulsion, and most deck duties on board. However, the "Medical Treatment Facility", or hospital on the ship, is commanded by a Captain of the Navy's Medical Corps.
Ship's General Characteristics
Displacement:  69,360 tons
Length: 894 feet
Beam (width): 105 feet, 7 inches
Propulsion: two boilers, tow GE turbines, one shaft
24,500 hp
Speed: 17.5 Knots  = 20.13 miles per hour Calculator
Crew: 12 civilian and 58 military during Reduced Operating Status
61 civilian and 1,214 military during Full Operating Status
Time to activate: 5 days
General characteristics
Patient Capacity:
Intensive care wards: 80 beds
Recovery wards: 20 beds
Intermediate care wards: 280 beds
Light care wards: 120 beds
Limited care wards: 500 beds
Total Patient Capacity: 1000 beds
Operating Rooms: 12
Departments and Facilities:
Casualty reception
Radiological services
Main laboratory plus satellite lab
Central sterile receiving
Medical supply/pharmacy
Physical therapy and burn care
Intensive Care Unit
Dental services
Optometry/lens lab
Morgue
Laundry
Oxygen producing plants (two)
More Information: