*********See Event Photos HERE********
Friends of the Bethlehem Shipyard Museum are cordially invited to the inaugural program "WE STICK TOGETHER", the first in our Maritime Historical Preservation Series.
This program will honor the five Sullivan brothers who lost their lives in the 1st Naval Battle of Guadalcanal on November 13, 1942,  and the historic Bethlehem Shipbuilding Corporation that launched the USS THE SULLIVANS (DD 537) in their honor on April 4, 1943. Click here to learn more about the Battle…
Guest Speakers:
Gerard Roncolato, CAPT, USN (Ret.): Commissioning Commanding Officer, USS THE SULLIVANS (DDG 68); Commanding Officer Destroyer Squadron 26.
Kelly (Sullivan) Loughren, by video: Granddaughter of Albert Sullivan.
Chief Johnny Johnson: Chairman USS San Francisco Memorial Foundation; Eyewitness to the battle that took the Sullivan Brothers' lives.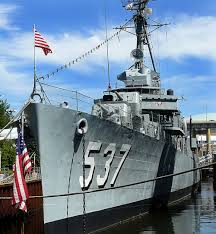 **This program is co-sponsored by the California Heritage Council**
Wednesday, November 13, 2013
Time: 10:30 AM to 1:00 PM
Location: Noonan Building, Pier 70, Building 11, San Francisco, CA 94107
Parking: Limited at the Noonan Building and on 20th Street. Car pool/ride share recommended. For special accommodations call William Perez at (415) 467-3410.
Refreshments: Light lunch and beverages
RSVP to [email protected] with attendee names.
(originally published October 11, 2013)